The Office of Research at Oakland University presented several UO faculty members with awards in recognition of their outstanding research and initiatives at the Public Meeting on Research, Innovation, and Engagement, held on Thursday, April 7. The awards were given out virtually this year due to the covid19 pandemic.
"We are delighted to recognize these remarkable efforts in the areas of funded research," said Dr. David Stone, professor of health sciences and philosophy and vice president of research at OU.
This year's award categories included:
• Frank Giblin Lifetime Achievement Award, which honors faculty members for outstanding research achievements during their careers at Oakland University and is named in honor of Dr. Frank Giblin to recognize his distinguished career at the Eye Research Institute. The award was presented to Dr. Andrew FX Goldberg, Reddy Professor of Biomedical Sciences at the Eye Research Institute, who has received $8 million in research funding over his career.
The efforts of Dr. Goldberg and his lab focus on understanding and combating inherited forms of retinal disease caused by defects in the structure of the rod and cone cells of the eye. They recently published in the Proceedings of the National Academy of Sciences, resolving a decades-old question about how rods and cones acquire their characteristic shapes. Understanding how these cells are structured is an important step in understanding how inherited defects disrupt their structure to trigger eye disease.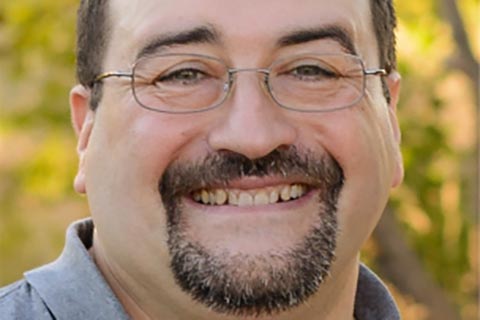 Luca Cucullo
• Researcher of the Year Award, which was presented to Dr. Luca Cucullo, professor in the Department of Basic Medical Studies. The award recognizes the faculty member who has received the highest amount of competitive grants during the fiscal year. Dr. Cucullo has received over $2.2 million in funding.
Dr. Cucullo does translational neuroscience research focused on understanding how physical changes affect the structure and function of the brain and its regions, how to influence or alter these physical structures (through drugs and other biological agents) when they have been affected by injury or adverse effects. behavior (such as smoking), and how to assess pre-existing conditions or factors that may help or hinder the treatment of disease states or other health problems, and design effective countermeasures against them.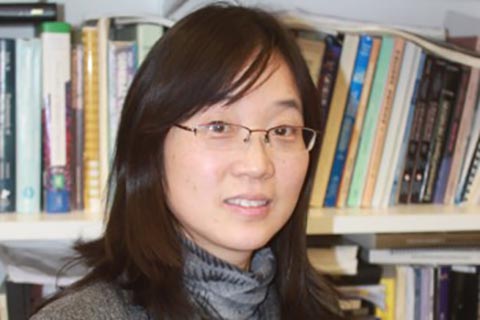 Xiangqun Zeng
• Most Active Research Award, which is awarded to faculty members with the highest number of new grants during the fiscal year. The award was presented to Dr. Xiangqun Zeng, an eminent professor of analytical chemistry. She received three grants in fiscal year 2021, and her sensor projects have been funded by the National Institutes of Health (NIH), the National Science Foundation (NSF), and the US Department of Energy.
Dr. Zeng is working to integrate greenhouse gas sensor technology and improve models to project ground processes, which helps to study the dynamic changes occurring in the Arctic. This project is part of one of NSF's Big Ideas, "Navigating the New Arctic," which addresses the scientific challenges of convergence in this rapidly changing environment. Dr. Zeng has also been funded for work focusing on sensors to monitor hydrogen.
• Most Active Grant Researcher Award, which was also presented to Dr. Xiangqun Zeng. The award is given to the faculty member who submitted the most grant proposals to federal agencies during the fiscal year. Over the past year, Dr. Zeng has submitted nine proposals to funders, including the NIH and the Environmental Protection Agency.
Dr. Zeng has been the recipient of this award for the past four out of five years, and the award has been renamed in her honor. From 2023, it will be the Xiangqun Zeng Grant Seeker Award.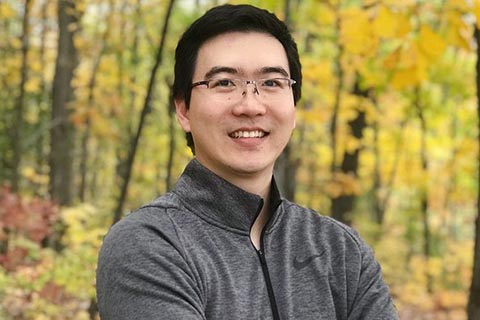 Ziming Yang
• Best Junior Researcher Award, which is awarded to early-career faculty member(s) who have achieved notable research achievements during the fiscal year. The award was presented to Dr. Ziming Yang, assistant professor of environmental chemistry and PI Academy alumnus. Dr. Yang received the prestigious NSF CAREER Award for supporting his work in understanding hydrothermal systems.
The research of his laboratory group focuses on the interfaces of chemistry, geology and biology. Their main projects investigate how metal minerals/ions influence organic geochemical reactions in hydrothermal systems on and beyond the Earth. In addition, they also do research on biogeochemistry – exploring organic-mineral-microbial interactions in soils and aquatic ecosystems.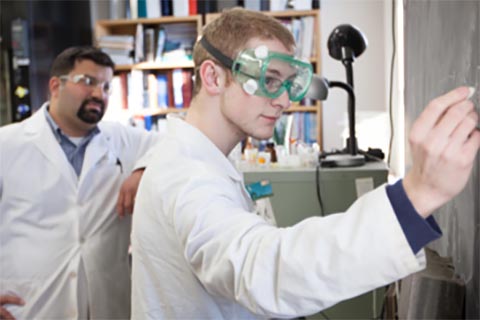 Department of Chemistry
• Research Department Excellence Award, which was presented to the Department of Chemistry and the Department of Basic Medical Studies. The award recognizes departments that have received the highest amount of research funding during the fiscal year.
This year, the Chemistry Department received more than $4.1 million in funding, including $2.9 million from the State of Michigan and the Michigan Department of Health and Human Services, which supported work focused on COVID-19. Overall, ministry grants funded 11 major projects.
The Department of Basic Medical Studies received $2.5 million in funding, with seven major projects. FMS faculty have researched confidence in vaccines, smoking and its effects on the brain, and addiction treatment and recovery for youth in foster care in Michigan.
"You are all doing an outstanding job, and it is absolutely exceptional in terms of promoting and supporting our research enterprise," said Dr. Britt Rios-Ellis, executive vice president of academic affairs and provost at the University. from Oakland. "Together, we look forward to seeing your continued success in current and future projects."
In addition to the awards, Dr. Stone also highlighted some of the initiatives and accomplishments undertaken by other departments this year, including:
• The Department of Industrial and Systems Engineering had 75% of its professors submitting proposals, making it the department with the highest proportion of professors submitting proposals. This is their second year with this honor.
• The Department of Mechanical Engineering had 58% of its professors submitting proposals.
More information can be found in the annual research report, which is published each fall and provides details of sponsored projects and activities for the previous year. The report can be viewed on the Office of Research website at www.oakland.edu/research.